ACTION TRACK WHEELCHAIR RESERVATION
Through a cooperative effort of the Northern Kettles Chapter of the National Wild Turkey Federation and American Legion Friedrichs-Mueller-Norgaard, WI Post 149 Sheboygan Falls, WI a tracked wheelchair is available for persons with mobility difficulties to use free of charge to enjoy outdoor activities as independently as possible.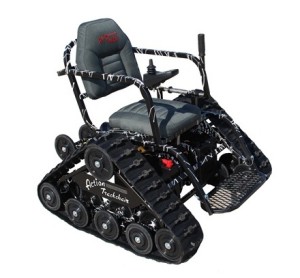 Reservations for the tracked wheelchair will be on a first-come, first-served basis.
The 350 lb. tracked wheelchair will be loaded on a trailer with a total weight 1,900 lbs. and a tongue weight of  350 lbs.  Please make sure you will have access to a tow vehicle with the proper capacity and a minimum Class III hitch with a 2" ball before making a reservation. When picking up and returning the chair, you will be required sign a chair & trailer condition report.  The chair and trailer will need to be returned in the same or better condition as checked out.
You and your attendant (if applicable) will need to acknowledge that you have read the Action TrackChair Owner's Manual (Requires Adobe PDF Viewer or Compatible) pages 4-8 and 11, have received hands-on instruction at the time of pick up, and have provided a signed liability waiver form before the equipment can be released to you.   If you have any questions please ask. We will make every effort to be certain you understand how to safely operate the tracked wheelchair so that you may enjoy a perfect day in the outdoors.
The driver(s) of the vehicle pulling the trailer will have to provide a valid driver's license and proof of auto insurance before the equipment can be released to you. No more than 2 drivers please.
A Northern Kettles Chapter – NWTF member acting as a volunteer for American Legion Post 149 will contact you to let you know your specified time and finalize pick up and drop off instructions and location.
The pickup/drop-off location is:  American Legion Post 149, 531 Madison St., Sheboygan Falls, WI 53085
How to Reserve?
Check the availability of the Track Chair for the dates you are interested in the calendar below (reservations are made on a first-come, first-served basis)
Review and submit the required forms.  The reservation form can be submitted in one of three ways:
a.  Submit using the on-line reservation form (preferred) – click here
b.  Download and complete all required forms, then scan and email the forms to nwtftrackwheelchair@gmail.com
c.  Download all required forms, then mail the completed forms to the postal address listed on the reservation form
In addition to the reservation form, we prefer that a copy of a valid driver's license and proof of insurance for the person(s) towing the unit be submitted with the Reservation Form.  If unknown at this time, they must be presented at time of pick-up.  We also recommend completing the liability form ahead of time.
Forms
Forms can be downloaded from the links below:
February

2018

Sun
Mon
Tue
Wed
Thu
Fri
Sat