Tri-County Sportswomen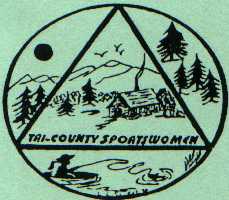 Founded in 1987 by a group of women who believe in promoting education and skill development for individuals interested in hunting, trapping, fishing and other outdoor activities. We like to provide an atmosphere of support, camaraderie and to serve as a forum for discussion and support of conservation issues. We meet every 3rd Thursday of the month and location is determined by the activity of the month. No experience is necessary in the outdoors to join and dues are $10/year.

Accomplishments include 2012 Conservation Club of the Year for Wisconsin Wildlife Federation and SCCA Club of the Year for 2009. We are active members of the SCCA, Wisconsin Wildlife Federation and Maywood Environmental Center. We also sponsor a classroom for Camp Y-Koda.  Some of the fun activities that we engage in are Outdoor Activity/Free Fishing Day which we donate rod and reels and work at, work and donate to the SCCA banquet, donate and work at Camp Y-Koda banquet, sponsor students to Greenwing Day and donate to the Friends of the Marsh for their tower. We host biennial self-defense classes for women of all ages. We donate to the Share the Spirit, Wounded Warriors, local Food Pantry and food baskets to four needy families which include Safe Harbor.
At our meetings we like to introduce and try out different skills like:  walleye, trout and salmon fishing; trap and pistol shooting; sporting clays; turkey calling; 3D archery; fly and buck tail tying; tour of fish hatchery; firearm safety and tree planting. We also work with local DNR personnel to band geese and ducks. Our latest project for the past six years and going forth is the landscaping and tending the flowers at Elkhart Lake's Boat Landing.
If you are interested in joining our club or have questions please contact us:
Sally Newhaus, President
Email:  sallyneuhaus@gmail.com
Phone:  920-838-3014
Brenda Dehne, Vice-President
Debbie Sippel, Secretary
Kathy Scully, Treasurer
Sue Matzat, Member at Large